The Whitworth is UK Museum of the Year 2015
The Whitworth, part of the University of Manchester, has been awarded the prestigious Art Fund Prize.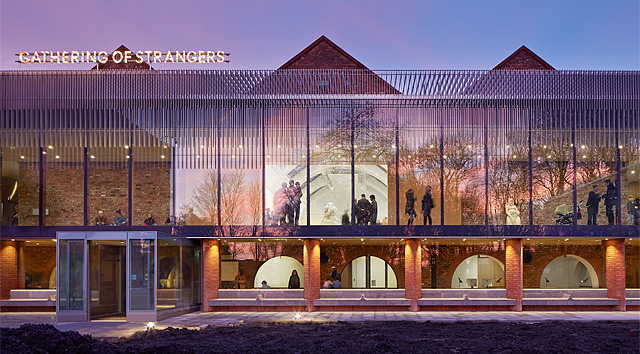 On 1 July, at a ceremony at Tate Modern, the gallery was awarded the Art Fund Prize for Museum of the Year 2015. It's the largest arts award in Britain and the biggest museum prize in the world. It is awarded to the museum or gallery in the UK that is judged to have best demonstrated excellence, innovation and imagination.
The Whitworth reopened on 14 February, but while closed did all it could to remain "open", with pop-up projects all over the city and beyond, maintaining links to existing audiences and building new ones. Since reopening, the new building makes possible larger and more ambitious projects, presentations and exhibitions, and fulfils the gallery's potential as a major UK cultural destination.
"During 2014, while MUMA created our new gallery, we took the Whitworth and its collections out into the city," explains Director Maria Balshaw. "We used the time to create more ambitious programmes. We considered what sorts of collaborations could work at the Whitworth, between young people and our collections, say, or between artists and the academics we share a campus with. And we created an ambitious opening season of exhibitions and events that could only happen here at the Whitworth.
"That period of intensive work paid off. In the five months since our reopening, 200,000 people have enjoyed everything from Cornelia Parker's collaboration with the Nobel Prize-winning scientist, Konstantin Novoselov - alongside her monumental new commission, War Room - to hip hop in the Grand Hall, tai chi in the art garden and an exhibition curated by older men from a local care home. In between, we've hosted ten, critically acclaimed exhibitions and witnessed a 'takeover' of the gallery by young people."
Stephen Deuchar, Art Fund director and chair of judges said "the transformation of the Whitworth has been one of the great museum achievements of recent years. It has changed the landscape: it truly feels like a museum of the future."
The panel of judges comprised artist Michael Landy; design critic and author Alice Rawsthorn; books and arts editor of The Economist Fiammetta Rocco; and Axel Rüger, director of the Van Gogh Museum in Amsterdam. The University of Manchester's Whitworth was chosen from a shortlist of six finalists: Dunham Massey (National Trust), Altrincham; IWM, London; The MAC, Belfast; Oxford University Museum of Natural History; and HM Tower of London.
Ed Watts, Engagement Manager at the Whitworth will speak at Celebrate Creative Ageing Sydney 2015. Mr Watts led the national research project exploring older men's participation in society and culture, culminating in public programmes, an exhibition and publication of a guide to establishing similar projects.