Hello Koalas Sculpture Project - An Arts and Health Public Art Program launched by the NSW Premier
The Premier of NSW, the Hon. Mike Baird MP recently launched the Hello Koalas Sculpture Project in Port Macquarie on the Mid North Coast of NSW.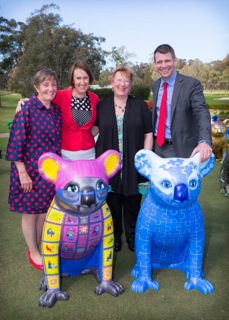 Fifty one metre high fibreglass koala sculptures, featuring hand painted artist designs, have been created to form a sculpture trail across the Port Macquarie Hastings LGA, as a signature cultural event for the region.
The Hello Koalas Sculpture Project includes a koala sculpture design 'Dementia – Looking for the Key', sponsored by the NSW Government to promote dementia friendly communities. Local Member of Parliament for Port Macquarie, Leslie Williams is leading the State Government's pilot program to reduce the social isolation, which often accompanies a diagnosis of dementia.
A second sculpture with an arts and health theme is 'OMA – Creative Ageing Koala', sponsored by The Whiddon Group.
Both designs were commissioned by Arts and Health Australia and created by Melbourne artist, Kerry Smith-Taughkin. Kerry attended the Arts and Health Australia conference in Melbourne in 2010, presenting on the use of sculpture to reduce stigma around alzheimer's disease.
Kerry will again be attending the 2014 conference at the National Gallery of Victoria in November and will lead delegates in a collaborative art making project – a group painting of a koala sculpture to commemorate the 6th international conference and celebrate the growing arts and health community in Australia and internationally.
The sculpture, 'painted by many hands', will then take up residence at the Olivia Newton-John Cancer and Wellness Centre, Austin Health Melbourne as part of their arts and health program and art collection.
The Whiddon Group, which has sponsored OMA, manages 19 aged care facilities in NSW and is committed to the integration of creative ageing programs in its service delivery. According to Karn Nelson, Executive General Manager Strategic Policy and Research: "Our vision is for the broader concept of creative ageing to be integral to our care approach for the whole person, helping us integrate care for our clients' social, emotional and physical needs".
Arts and Health Australia is working with the Whiddon Group on the development of a creative ageing program, for people in both independent living and dementia care facilities, around art-making, poetry and koalas!