Julie Priest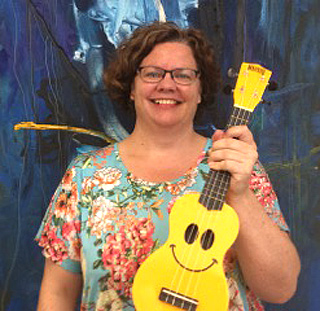 Julie Priest, Place Facilitator, Port Macquarie-Hastings Council NSW
Julie is a Place Facilitator at Port Macquarie-Hastings Council, working with residents to activate their community. Creator of the "I've got Uke, babe" project and winner of the Local Government NSW 2012 Creative Ageing Award for Granny Graffiti (yarn bombing), and initiator of an intergenerational "Complaints Choir". Former Senior Program Manager at the Adelaide Fringe Festival, the largest festival in the southern hemisphere, Julie has spent 12 years in Adelaide including as Event Manager at Adelaide City Council. She previously volunteered overseas for two years in aid and humanitarian work including building water wells in the Kalahari.
Known as a "grants whisperer" she's acquired over $1million of grants for Port Macquarie-Hastings Council including funding to build all inclusive playgrounds and wheelchair accessible fishing platforms. Julie teamed with Margret Meagher, Director of The Australian Centre for Arts and Health, to develop the inaugural Celebrate Creative Ageing Festival in Port Macquarie for Seniors Week 2015 and wrangled Local Government NSW and State Government funding for the Festival. She is the Chair of the Port Macquarie Dementia Friendly Steering Committee and aims for this coastal municipality to be the first dementia friendly town in Australia.
Julie is a teacher of the Council staff "Ukes of Hazzard" group and is a member of the Port Macquarie Ukestra.