The Art of Good Health and Wellbeing, Sydney 2015
7th Annual International Arts and Health Conference
17 - 19 November 2015
Art Gallery of New South Wales, Sydney, Australia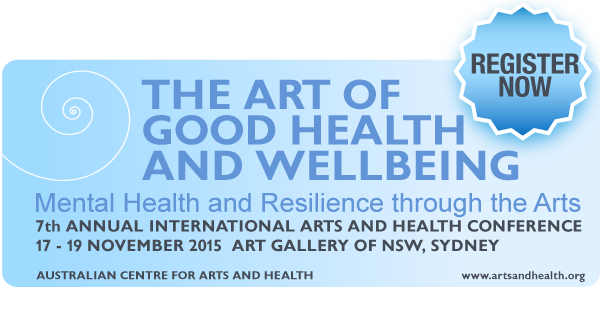 The Art of Good Health and Wellbeing, 7th Annual International Arts and Health Conference, will present best practice and innovative arts and health programs, effective health promotion and prevention campaigns, methods of project evaluation and scientific research.
We're very excited about the depth and diversity of presentations this year. Have a look at our Presenters Directory and Plenary Speakers.
Early Bird Registrations Extended to Friday 30 October 2015
Conference Streams
Special focus for 2015 - The Arts, Mental Health and Resilience
General conference sessions will encompass:
Arts and Health in Primary and Acute Care

Creative Ageing and Aged Care
Community Arts and Health
Health Promotion and the Arts
Education and Training for Health and Arts Professionals
Arts and Health Research and Evaluation
Abstract Themes
Mental Health and the Arts
Creative Ageing
Architecture and Design in Health Settings
Arts and Health in Rural and Regional Communities
Medical Humanities for Health Professionals
International Arts and Health Perspectives, Collaborations and Research
Who should attend?
Medical, nursing and allied healthcare professionals
Government decision-makers and policy advisers in health, indigenous affairs, arts, science, education and training, community health, veterans' affairs, cultural tourism and local government
Executives in public and private hospitals, retirement villages, aged care and palliative care facilities
Representatives of arts organisations, visual and performing artists, writers, arts and health practitioners
Representatives of Aboriginal and Torres Strait Islander communities
Local Government representatives from community cultural development, aged care and community health services
Education authorities, academics, teachers and medical and healthcare colleges
Researchers, particularly in the area of health and social sciences
Art and museum educators and curators
Art therapists (visual arts, dance, music, drama, expressive writing)
Media