Victoria Jones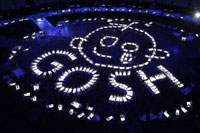 I joined Great Ormond Street Children's Hospital in 2005 to establish, develop and manage a relevant and wide ranging creative programme for the Trust. GO Create! as it stands today includes - a number of large scale permanent art commissions with several more planned for the forthcoming phases of the redevelopment plan; a growing art collection; an ongoing wide ranging participatory programme; a temporary exhibitions programme; regular events and performances programme and a cultural enrichment programme for GOSH staff. GO Create! has grown to become a recognised and valued presence across the Trust, playing an integral role in the GOSH Redevelopment Programme, making a significant and continuous contribution to the healing environment.
GO Create!
The GO Create! arts programme at Great Ormond Street Hospital for Children NHS Foundation Trust (GOSH) began in 2005 and has grown to become packed, wide and varied programme which now includes a number of site-specific commissioned artworks across our campus, a constantly growing art collection, annual creative residencies, regular workshops throughout the hospital, a music and performance programme, Culture Club - our cultural enrichment programme for all staff and two changing exhibition areas.
GO Create! makes a vital contribution to the healing environment and hospital experience we provide for our patients, visitors and staff. We aim to create relaxing, engaging and child-friendly surroundings and support creativity and learning across the Trust. Our varied programme reflects the diversity of our patients, visitors and staff at the hospital, appealing to a wide range of cultural backgrounds and age groups. Our commissioning work is integral to the hospital's extensive redevelopment programme, enhancing the physical environment of GOSH for our patients, their families and also for our staff.
We have been very fortunate to have formed a large number of fruitful partnerships with a range of organisations and cultural institutions across London including Amnesty International, The Wellcome Trust, The British Museum, Paintings in Hospitals, London Transport Museum, Tate Modern and the National Portrait Gallery amongst others.
We have recently begun to establish a network of professionals within the UK working specifically within the field of arts and health for children and young people. We are also beginning to work closely with the Centre for Nursing and Allied Health Research, who conduct of child and family focused research.
GO Create has become widely recognised both within the Trust and beyond. At the beginning of 2012 the GO Create! programme was cited as an example of best practice in a Europen policy glossary, Learning for well-being: a policy priority for children and youth in Europe (PDF), produced by the Learning for Well-being Consortium of Foundations in Europe. The policy glossary was launched at an international conference for learning and well-being in Brussels in February 2012.