Molly Carlile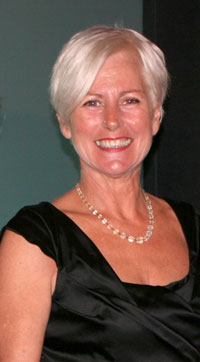 Molly Carlile is a healthcare professional, educator and author, and has recently taken up the appointment as the Manager of Palliative Care Services, for Austin Health in Melbourne.
Molly is responsible for the strategic and operational management of palliative care including the planning and implementation of the move to Austin's new Olivia Newton John Cancer and Wellness Centre. This is an integrated cancer centre, incorporating palliative and supportive care with a focus on wellness. Arts and health is seen as an essential element in providing a safe healing environment for patients across the care continuum, no matter their prognosis.
Molly will give a presentation about this new centre and how arts and health strategies and programs are being applied, as well as highlighting the benefits and challenges of incorporating arts and health programming into a health facility.
Molly was the recipient of the 2009 Arts and Health Australia Award for Excellence in the category of Health Promotion.
Establishing an arts in healthcare program in the new acute facility, the Olivia Newton John Cancer and Wellness Centre, Austin Health Melbourne
The Olivia Newton-John Cancer and Wellness Centre is a new facility, stage 1 (ambulatory care) of which opened in July 2012. The inpatient wards of Haematology, Oncology and Palliative Care are due to open in July 2013.
With a vision that "You Matter" and a philosophy of integrating wellness into acute cancer care, this facility is a part of Austin Health in Melbourne, Australia.
The innovative approach to ensuring that physical, psychological, emotional, spiritual, social and cultural wellness is embedded as part of clinical care, rather than being an "added extra", has offered the organisation an opportunity to explore a range of programs that engage with the community and empower patients and families.
Austin Health has recognised the importance of the care environment in defining the relationships between clients, staff and the community, and therefore care outcomes. In order to address the holistic needs of people embarking on cancer treatment or facing end of life, the Olivia Newton-John Cancer and Wellness Centre has established an arts in healthcare role in the Cancer Services Management Team to design, deliver and evaluate a range of arts in healthcare programs.
This presentation will explore the challenges of introducing an arts in healthcare program in an acute health environment where resources are minimal, understanding of the value of the arts in mainstream medicine patchy, and enthusiasm in the community enormous. All of this means a carefully crafted approach to donations and volunteering is essential to ensuring the quality of the program. How we plan to incrementally implement the program will be outlined in this presentation.