Jane Davidson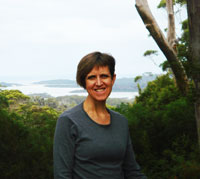 Jane Davidson trained in both music and contemporary dance, studying in UK and Canada for her bachelor and masters degrees. She completed a PhD in Music Psychology from City University, London. She has worked as an opera singer and director, a Leverhulme Trust Postdoctoral Research Fellow, and a music lecturer. Her first academic position was at City University, London, before moving to University of Sheffield, UK where she worked for thirteen years, helping to establish the largest concentration of research activity in music psychology in UK. She also supervised some 30 PhD students to completion, and was editor of the prestigious journal Psychology of Music (1997-2001). She was also Vice-President of the European Society for the Cognitive Sciences of Music (2003-2006) and is the President of the Musicological Society of Australia (2010 and 2011).
She joined the staff at The University of Western Australia in 2006 as the inaugural Callaway/Tunley Chair of Music. Her roles have included Research and Postgraduate Coordinator, Vocal Studies Coordinator and Director of the Callaway Centre. She currently manages six funded research projects ranging from work on collections (specifically the ethnomusicologist John Blacking's personal and research papers) to practical work such as developing a program to use music for health and wellbeing impact. Jane Davidson has published over 100 scholarly outputs and has expertise in musical skills and development, musical emotion and expression, music and wellbeing, body movement and singing. In creative practice, she continues to direct for the operatic stage. Since 2002 she has collaborated with world-leading baroque musician Andrew Lawrence-King on a range of historically informed opera projects. She is now fulfilling major projects on performance and emotion in her role as Performance Program Leader of the Australian Research Council's Centre of Excellence for the History of Emotions that runs from 2011 to 2017.
Music, Health and Wellbeing: A Long History of Emotion
Anecdotally, many of us recognise that music has a unique 'power' to initiate change. Indeed, we use music to manipulate mood, emotion even temperament, as well as influence mental and well as physical health and wellbeing. In this talk, I shall take the opportunity to explore the function of music and its evolving role in culture and society over history, specifically working towards understanding its crucial place in human good health and wellbeing. I shall begin by investigating Ellen Dissanayake's compelling theory accounting for the universality of human music-making.
Based on the idea of mutuality - the behavioural and emotional coordination between two individuals who need each other for their own individual reasons - Dissanayake explores infant-caregiver proto-musical activity and its role in the dyad co-constructing a positive emotional relationship. The mother's vocalisations and movements involve repetitions, exaggerations and elaborations that are quickly assimilated by the infant and responded to with like 'musical' expressions. It has an adaptive value for participants in the relationship, nurturing feelings of love and attachment in both mother and infant. From this base, I shall look at the contexts in which this fundamental communicative musicality has been elaborated by human societies for regulatory positive health and wellbeing outcome: social ceremony, self-regulation, through to formalized therapeutic practices.
This will involve an exploration across time from theories by Aristotle and Pythagoras through to key twentieth century thinkers like Peter Kivy and Jerrold Levinson. This will provide a context for us to consider music's contemporary role in newer arts and health practices such as music therapy, community singing, toddler music and such like.
The presentation will involve historical case studies and references to my own on-going research exploring the use of singing with older people, music for migrant communities, and our daily uses of music in contemporary life.