Evelyna Liang Kan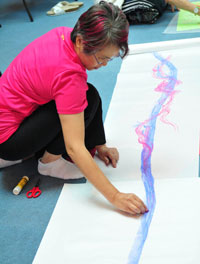 Evelyna Liang Kan is an artist, art consultant, and art educator and community art facilitator. Over the past 40 years, Ms. Liang has been zealously promoting community art to help underprivileged communities in Hong Kong and all over the world. She founded the "Art in the Camp" project in the 80's, bringing art education to the Vietnamese Camp community. In the early 90's, she established "Art in Hospital" and turned hospital walls into happy and colorful murals. She also founded "Art for All" in 2002 which aims to use art to empower all for a better, harmonious society. Evelyna exhibited extensively around Hong Kong and Asia, in her own personal work she addresses mostly on women issues. Her interest has extended into the area of 'Healing through Art' using ordinary daily objects to raise concern on relationship between countries and between men. Recently, Her work has shifted back to her own cultural background, and question the meaning of communication through words and the age old concept of Chinese Painting.
Grandpa Grandma Memory Boxes
A Multimedia Art Installation exhibition of works created by a group of senior citizens (suffering from visual disabilities and early dementia) and six Hong Kong based visual artists. The exhibition explores the hidden world of the elderly and offers a glimpse into the culture of Hong Kong past by showcasing works in a variety of media that are the creative outcome of the interaction between the artists and seniors and the participation of visitors. The exhibition includes black and white portraits of the elderly in a nostalgic film star style, large-scale collaborative paintings by them and the artists and miniature personal collection treasure boxes.