Elaine Burke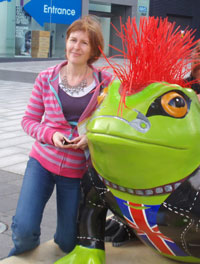 Elaine Burke is a healthcare professional and independent arts consultant. She developed and held the post of Arts and Health Manager within both the Hull and East Yorkshire Primary Care Trusts and the Humber Mental Health Trust for 7 years until October 2008. This post was unique in the UK, establishing a senior management role to place arts and health at the core of NHS service delivery, receiving national and international recognition for its innovation in the sector.
Elaine developed a wide range of arts and health initiatives, and headed up a team of arts and health practitioners to deliver health promotion and public health programmes for vulnerable groups, including: young people in care, prison inmates, carers, young offenders, teenage boys, young adults with first episode psychosis, adults with learning disabilities and adult / older adult mental health service users. Other significant project strands include arts in healthcare environments - both hospital and primary care.
Initially trained as an art psychotherapist, Elaine was Head of Art Therapy for Children's Services in NHS Hull and East Yorkshire for 6 years, before moving onto her role as Arts and Health Manager.
Elaine now works as a freelance specialist consultant across a variety of arts programmes - encompassing health, social, community, evaluation, place-making, tourism and arts development. She brokers projects and relationships between arts and non-arts sectors. Most recently, she developed the national award-winning cultural tourism project 'Larkin with Toads'. She is interested in big change, big impacts and high quality; and she believes that the arts are just the thing to make it happen.
Arts and Health, Making it Work
Elaine Burke will present a journey through the development of arts and health services in Hull and East Yorkshire. Highlighting her key learning about how to support the non-traditional approaches of arts and health to flourish within the National Health Service, and beyond into other statutory service provision – social services, education, criminal justice, community partnerships etc.
She will look at a variety of ways to make the case for the arts, win over hearts and minds, sustain and grow arts and health programmes, and knit creative approaches into the fabric of a large, mainstream, and traditionally-orientated health organisation.