Dr Michael Stanford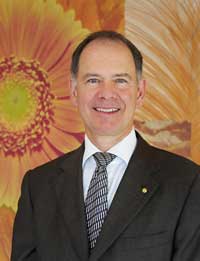 Michael was appointed as Group CEO of St John of God Health Care in February 2002 and has almost 30 years experience in public and private healthcare management - the majority of which in senior management roles and 17 as a chief executive officer - in Western Australia, Victoria, New South Wales and the United Kingdom.
He is a member of three boards across the health, education and community sectors: Catholic Health Australia Inc, Curtin University of Technology and the Royal Automobile Club of WA Holdings Pty Ltd, and is an Australia Business Arts Foundation State Councillor for WA. Michael was the 2010 WA Citizen of the Year Award winner in the Industry and Commerce category.
During Michael's time at St John of God Health Care the organisation has expanded significantly its range of services, has more than doubled its size in terms of healthcare services provided, revenue (now $1 billion p.a.) and staff, as well as developing very significant Social Outreach activities. The recent announcement of winning the right to design, build and operate a major (367 bed) public patient facility and private patient facility under contract to the WA Government is SJGHC's latest major achievement during Michael's tenure.