David Doyle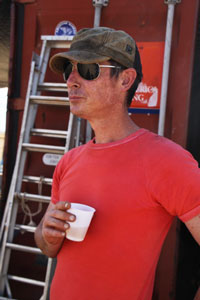 In 2008 David was awarded the Western Australian -State Arts Business Leadership Award for his work in building sustainable partnerships between communities, the business and corporate sectors.
David is the Executive Director of DADAA Inc. an Arts organisation dedicated to Arts for Social Change that has been at the forefront of the Australian Arts and Disability movement over the past 14 years.
David has worked across Australia, in Hong Kong, Kenya, and Ireland to extend cultural participation opportunities for people with disabilities.
David is the editor of Proving the Practice- evidencing the effects of community arts on mental health, he has written widely on Arts and Health practices in Australia and is a member of the Editorial Advisory Committee OE for the UK based Arts and Health- an international journal for Research Policy and practice and was awarded the National Arts and Health Leadership Award in 2009 for his work in the Australian Arts and Health sectors.
The UK - WA Artists' Exchange
Panel Format Presentation
Co-presenters: Mike White, Mary Robson, David Doyle, 2 UK artists, 2 WA artists
A team of Australian and UK practitioner/researchers is supporting a pilot exchange in community-based arts in health for two artists from Northern England and two from Western Australia, providing placements in each other's jobs, networks, and communities for six to eight weeks, guided by reflective practice and research.
With the financial investment of Australia Council for the Arts and Arts Council England, the project is putting young and emerging artists at the centre of complex communities and practices at an international level.
All four artists aim to develop meaningful connections with health population groups through arts and health processes at grass roots levels. The project provides production and critical reflection avenues through which the participating artists will develop new approaches to their practice and inform the recommendations and frameworks to guide future investments in the next generation of outstanding artists working in a participatory community context.
The artists' exchange will take place in the two months leading up to the Freemantle conference. The Australian artists will be based mostly at Chickenley Primary School in a socio-economically deprived part of Dewsbury, Yorkshire, where Mary Robson has been in residence with a team of artists since 2003. The placements offered in Western Australia to the artists from Chickenley are in DADAA's fieldwork on mental health street-based interventions.
Within a facilitated reflective practice framework, all the artists will work with their host communities and explore similarities and differences in approaches to community-based arts in health. Staff from the Centre for Medical Humanities at Durham University and DADAA will provide project development and supervision throughout. Expected outcomes, based on the international experience of the project partners, are:
Artworks from the artists that advance their thought and practice
A training and capacity-building framework for artists in Northern England and Western Australia in community-based arts in health.
A detailed strategy by the project partners for developing future international arts in health exchanges
Connected communities of practitioners and participants as a direct result of arts development work done during the exchange.
Dialogue with policy makers in arts, health and education sectors at an international level
Artists, organisations and researchers will meet in Freemantle to reflect upon the experiences of the project and the initial findings will be shared with the conference.