Clive Parkinson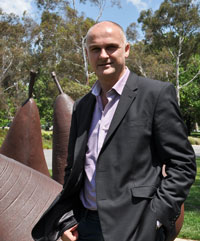 Clive Parkinson is the Director of Arts for Health. Based at Manchester Metropolitan University, it is the longest established organisation of its sort. Clive is a passionate advocate for culture and the arts and is constantly striving to further understand the potential impact of the arts on public health, particularly in light of the ongoing global financial downturn. Responding to this crisis, he has been working with artists, health practitioners and free-thinkers to explore shared thinking and action around contemporary practice and has produced a manifesto for arts, health and wellbeing; which in turn has influenced the development of the National Alliance for Arts, Health and Wellbeing, National Charter. He will be chairing the National Alliance leading into Culture, Health and Wellbeing International Conference in Bristol June 2013.
He is currently working on research around dementia and imagination, and involved in arts/health development work in Italy, France, Lithuania and Turkey. Building on his paper at the 2012 international Arts and Health Australia conference at the National Gallery of Australia in Canberra, he is working towards an exhibition and series of events that explore the role of culture and the arts in relation to conversations about death and dying. The exhibition '...Imagining Death', will be held in Manchester, Bogota and Vilnius in 2013.
As a visual artist, he worked in a hospital for people with learning difficulties whilst undertaking a degree at Lancaster University focusing on the relationship between creativity, culture, the arts and health. Employed variously by the NHS and voluntary sector, Clive has led on mental health promotion for an NHS Trust and managed day services for people affected by schizophrenia in the Northern seaside town of Morecambe. He regularly blogs at: artsforhealthmmu.blogspot.co.uk
A small scale global phenomenon: revelation or revolution?
Following the publication of Arts & Health, an International Journal for Research, Policy and Practice in 2009 and its introductory essay; The State of Arts and Health in England, it appeared that the arts/health community was on the brink of a new era of critical thinking and global connectivity. By unpicking the 'state' of the field in England in terms of research, policy and practice, this co-authored essay painted a picture, that over the intervening years, has arguably changed beyond recognition. Building on the work of partners from the political, health, cultural and arts sectors, this new paper from Clive Parkinson, reappraises the field in light of the changing political landscape and global financial downturn, drawing parallels between countries where arts/health is an emergent field and others where it is perhaps more established. Through shared observation, experience and experiment, this paper will identify new opportunities, challenges and possibilities in participatory arts and public health, and ask; are we part of what Mike White describes, a small scale global phenomenon - and if so, are we part of a gradual enlightenment or a cultural supernova?