Facilitators
'Ofa Fotu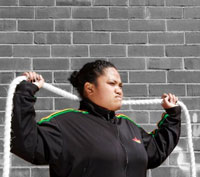 Although a majority of her work began in interdisciplinary/ performative works, slowly 'Ofa has begun to explore combining 2 of her artistic practices. She makes beats with found sounds in her immediate surroundings and currently is working on "Singing Telegram of Truth", where she offers her songwriting and performance skills to the public, as a singing telegram service delivering songs of truth to another party as directed by the hirer.
'Ofa has been an associate artist with the pvi collective since 2005 and has been a singer/songwriter with Odette Mercy & Her Soul Atomics since 2006
Minaxi May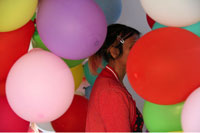 Known for her multidisciplinary art practice Minaxi explores colour, sculpture, installation, print and wall works with a collage aesthetics, using bought, reusable or ephemeral materials including plastics (acrylic, toys, objects & vinyl), stickers, stationery, food, fabrics and new/multi-media. Her conceptually based works investigate themes of popular culture especially in relation to consumerism, with an emphasis on beauty, design and the everyday. Her materially based approaches are typically identified with a spectacular use of fluoro and bright colour, repetition and play, often with collected materials. She is inspired from all around her, her style is particularly influenced by Japanese (Asian) or retro, 'cute,' kitsch, childlike or playful,temporary and the beautiful, decorative and design aesthetics. Many artists, who have a similar affinity with artistic sense inspire her (the list continues to grow) including Marcel Duchamp and the readymades, pop artists in particular Claes Oldenburg and Warhol (her friend calls her Andy Warhol's cousin), Robert Indiana and contemporary artists including Takashi Murakami, Jen Stark, Tom Friedman, Tara Donovan, Beci Orpin, Kirra Jamisonm Friends with You, and other creatives such as Wu & Wu, Bjork, Michel Gondry and Karim Rashid.
Matthew Bede Murphy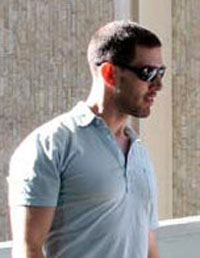 Matthew Bede Murphy is the Curator at LAND, The League Education and Treatment Center's Studio and Art Gallery for Adult Artists with Disabilities in New York.
As one of the founding members, Matthew led the LAND Program from concept to reality. Naming LAND was the 1st step in the programs existence then came staffing, securing a location and developed daily art schedules for the artists.
Founded in October 2005, LAND has become a destination for art collectors, with celebrity visits from the likes of Spike Lee, Drew Barrymoore, Cia and Mos Def.
Matthew has developed and maintained relationships with a variety of galleries, providing an inspirational place for artists to thrive, create and grow.
The League Education and Treatment Center is a non-profit and internationally recognized agency for evaluation, treatment and education of children and adults with psychiatric and developmental disabilities. Each day the Center works with over 500 at-risk and underserved children and adults from all parts of the greater New York City area. Day treatment, day habilitation and educational programs are highly individualized and offer the support and structure necessary to modify behavioral and psychiatric difficulties and maximize each person's potential. Interdisciplinary clinical services include psychiatry, psychology, social work, nursing, educational services, speech, hearing, physical and occupational therapies, family/ guardian support groups and workshops as well as advocacy services.
Catherine Peattie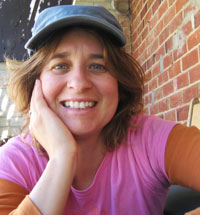 Catherine Peattie is currently working as a manager for DADAA Inc where the focus is on Community Arts and Cultural Development. She is passionate about art and its connection to the land and holds degrees in both art and science. She believes in and has seen the creation of art make a difference to people's lives.
Catherine collated and co-wrote the book Billy Benn with the Aboriginal Artist Billy Benn Perrurle. The book traces the life and art of this wonderful artist. Previously she has worked in a number of diverse arts and humanitarian positions; these included being the Arts Co-ordinator for Mwerre Anthurre Artists, a Field Officer for Papunya Tula Artists, an Editioner for Northern Editions and a Youth Refuge Worker.
In her own practice Catherine loves the mediums of printmaking and painting and her subjects mainly involve figure in landscape or just the natural environment. At home she is the proud mother of cheeky twin boys.
Lex Randolph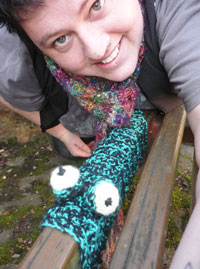 Lex is passionate about empowering people to be active in their communities. He also believes that the arts can be used as a catalyst for social change. These passions inform Lex's work and art-making in the Community Arts and Cultural Development (CACD) sector. Lex has experience working with diverse and complex communities, as an artist, facilitator, and project manager.
Lex has completed studies in Music, Anthropology, and Arts Management, and over the last 10 years has worked in various community service and arts organisations. Recent employment for Lex as a CACD practitioner has included work with DADAA Inc, Awesome Arts Australia, Propel Youth Arts WA, various s local governments and youth centres, and as a panel member for Community Arts Network WA's Catalyst Grants.
In his personal life, Lex is undergoing a gender transition, which informs much of his arts practice, with focus on personal identities and story-telling. Lex's predominantly textile and sound art works are varied, and include a recent work of stitched portraits and crochet telling the story of a political prisoner for the ARTillery Festival, and a crocheted piece titled "Speech Bubble" which includes a motion-sensored sound-scape for the Fill the Frame exhibition.
Lex's alter ego, Captain Plaknit, is a guerrilla crocheter (or yarn bomber), who has a penchant for super heros, crafting adventures, social justice and story-telling.
Sarah Wilkinson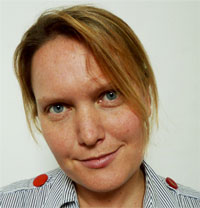 Sarah Wilkinson is an arts maker and manager based in Western Australia. She has worked as an arts worker, project facilitator, devisor, performer, sculptor and artistic director.
Sarah works with DADAA producing and presenting within the metro and regional arts programs. She works with DADAA artists and wider community to deliver site specific installations, galleryexhibitions and studio workshops.
As an artist Sarah's practice focuses on site specific works and interventionist art. She is inspired by works in public spaces and the power of animating and marking the public domain with personal stories.
Christopher Williams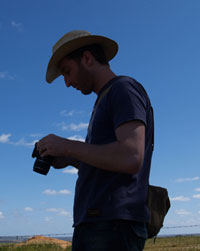 Christopher is the Arts Development Manager for DADAA Inc. Christopher holds a BA in English, with a focus upon Performance (Murdoch University).
Christopher has been a member of the PVI Collective since its' inception, the PVI Collective works in New–Media arts to initiate socially and politically motivated performances, exhibitions and interventions.
Chris has Artistically directed a wide range of interventionist projects focused upon the WA mental health community, targeting issues including HIV, Mental Health and Social Housing.
Chris's practice with communities is focused upon taking the work of marginalized communities to the streets, establishing a direct interface with audiences in alternate performative settings.
In remote regions of WA Chris has produced the past two Marsh Art Festivals, focused upon community, cross- cultural responses to the remote landscape of the Kimberly region.