Sharon Woodworth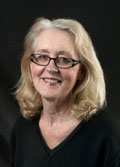 Sharon Woodworth is a senior architect at Anshen+Allen, the largest international firm dedicated solely to healthcare, education and research. In this role she has contributed to projects worldwide from the United Kingdom to the Philippines. The evolution of Sharon's career into architecture exposed her to the study of fine arts with a focus on serigraph printing and sculpture; it was Melinda Hunt, Maya Lin's Yale sculpture instructor, who encouraged her to pursue architecture. Her success in healthcare architecture has been strengthened by two diverse, prior professions, nursing and journalism. The former career in nursing increased her awareness of true healing environments with a focus on evidence-based design. The latter career in journalism exposed her to the value of a well-told story. With over six million square feet of healthcare facility planning and design experience, she has a wide-range of knowledge of hospital operations and continuum of care issues from pediatrics to senior living. This knowledge allows her to speak the client's language, and equally important, translate these needs to the architectural team. As a team leader, these skills are resources that benefit the project as a whole from design conception through construction. Sharon believes that her role is to translate ideas into form for the client and the team so that ultimately the patient benefits. Her aptitude for artistic quality, with a skill for writing, combined with the rigor of science allows Ms. Woodworth to successfully achieve designs that not only meet her clients' goals but also allows her to 'tell the story' so that others may gain from this success. Sharon is a noted speaker at healthcare and architectural conferences; previous speaking engagements include: American Organization of Nurse Executives, American Institute of Architects, and the Center for Health Design.
Art for the People / Art by the People
How could Laguna Honda be a home for 1200 people and still have a choice of living arrangements, dining options, and private bed rooms - all on an un-buildable site with a very limited budget? First, you re-think the definition of privacy, infuse every space with natural light, and last but not least, allow art to pull it all together.