David Doyle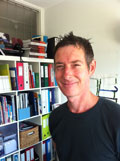 David is the Executive Director of DADAA, Western Australia, an Arts organisation dedicated to Arts for Social Change that has over the past 16 years been at the forefront of the Australian Arts and Disability movement.
David has worked across Australia, Hong Kong, Kenya and Ireland to extend cultural participation for people with disabilities and mental illness. David Holds a Bachelor of Visual Arts (ANU), Graduate Diploma of Education (ECU) and is an accredited Partnership Broker through PBAS UK. David is the Editor of Proving the Practice - evidencing the effects of community arts on mental health, he has written widely on Arts and Health practice in Australia.
As an arts worker throughout the 1990's David focused on regional Community Arts and Cultural Development projects and Disability Arts Festivals with a focus on cultural inclusion. David was awarded the National Arts and Health Leadership Award in 2009 for his work in the Australian Arts and Health sectors and the Western Australian State Arts Business Leadership Award for his work in sustainable partnerships, between communities, the business and Arts sectors.