Alice Thwaite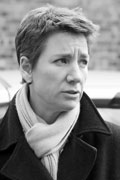 Alice is Director of Development of Equal Arts and has been a pioneer in the field of arts and older people for 20 years. Equal Arts is based in Gateshead in the North East of England and is one of only three arts organisations in the UK that specialises in work with older people across art forms. A small team contract a variety of professional artists to work on 12 - 14 projects each year. Alice has managed over 100 projects (raising over £3 million) in a wide variety of venues including hospitals, residential care homes, arts venues and day centres. She was consulted by the Royal Commission on Long Term Care and sits on the Board of Years Ahead, the regional Forum on Ageing, working strategically to include the arts into mainstream ageing policy.
Recent projects include Knitted Lives, an exhibition of 3D knitting created by women from Newcastle which toured all over the North East was seen by over 40,000 people; Art on Prescription, a social prescribing project funded by the NHS for people experiencing the early signs of dementia; Sing for Life a project involving care staff looking at ways to support singing in residential care homes.
Alice is passionate about enabling older people to have access to participatory arts programmes and in 2010 received a Winston Churchill Fellowship which enabled her to travel to Ireland and the US looking at models of good practice. She has been asked to sit on the selection panel for future Churchill Fellows in the arts and older people category and is keen to be part of the development of national and international networks of organisations working in the field.
Creative Aging
Equal Arts is working at the forefront of the creative ageing field in the UK and the presentation will describe key ingredients needed to develop successful projects. Alice will hope to inspire and inform the conference by looking at a range of projects that she has developed, from working with family Carers in the Carers Cultural Adventures group to developing an innovative art on prescription project for people with dementia to projects. She is currently setting up a 5 year project which will involve groups of older volunteers developing their own art form skills in contemporary dance and music, working with professional artists, who will be working in residential care homes with people with dementia and care staff.