Good Strong Powerful
An Exhibition from Northern Territory Art Studios working with Indigenous artists with disability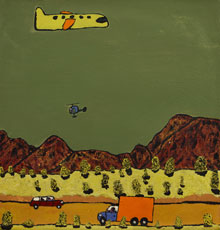 A highlight of the conference will be the opportunity to view and hear a presentation about the Good Strong Powerful exhibition at the National Gallery of Australia, Canberra, which showcases selected works from three innovative Northern Territory art studios, working with Indigenous artists with disability, from the tropical Top End to the desert heart of Central Australia. The exhibition contains extraordinary works by eleven established and emerging Indigenous artists whose work offers audiences a unique, quirky and highly original view of their surroundings. Each of these studios already have a strong national reputation and presence and this exhibition will bring them together for the first time.
The exhibition Good Strong Powerful is supported by ArtBack NT: Arts Development and Touring, Australia Council for the Arts, Northern Territory Government, Arts Access Darwin and Arts Access Australia.
Ngaruwanajirri has been operating on Bathurst Island since 1994 and in that time has achieved a reputation for excellence. Up to sixteen local Tiwi artists work at the centre, including Lorna Kantilla, Alfonso Puantjimi and Estelle Munkanome, recognised nationally and internationally, who form an integral part of this exhibition.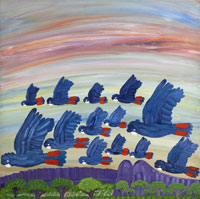 Mwerre Anthurre is a professional art studio program based at Bindi Inc. in Alice Springs. Established in 2000, Mwerre Anthurre Artists have received national recognition via a series of high profile exhibitions and can be found in collections nation wide including the NGA, AGNSW, NGV and MAGNT. Billy Benn Perrurle was the winner of the 34th Alice Prize in 2006. Kukula McDonald, Billy Kenda, Lance James and Adrian Robertson are also included in this exhibition.
Julalikari Arts was established in 1994 and in 2007/8, in connection with Arts Access Darwin and Artback NT, held printmaking workshops for emerging Canteen Creek artist Dion Beasley. These workshops introduced Dion to an innovative way of making art and fresh audiences and helped establish his reputation as an emerging artist. A national tour of Dion's prints has just concluded and some of Dion's prints will be showcased for Good Strong Powerful. Peggy Jones Napangardi will also be represented with her bold splashy paintings of country, bush foods and animals.